I swear, this movie is the most adorable movie I've ever seen.
THEY EVEN HAD A SPECIFIC MINION JUST TO BECOME THE SIREN OF THE FIREMANN XDXD
And the minions even played golfff
AND THERE'S A MAID MINIONNNN
Oh and did I mention that Gru became a fairy princess for Agnes's birthday party.
hehehhe I just love these minions so much. OKAY SUMMARY OF MOVIE 시작. (which is pronounced as shijak and means start.)
The Anti-Villain League (AVL) was trying to find out who stole an entire laboratory from some cold icy place. The lab was a testing ground for a mutating chemical called PX-41 serum and this chemical can mutate living things into indestructible killing machines so the AVL became suspicious. The person who stole it used a humongous magnet to ssucckkk the lab up. So now since Gru is an ex-villain, AVL wants to hire him to help them solve this case since he knows how a villain thinks.
Lucy Wilde, an agent from the AVL, crashes Agnes's birthday party and stuns Gru with her lipstick taser and brings him to the underwater AVL HQ where he meets the director, Silas Ramsbottom. (and the minions were like "bottom. HAHAH" KEWT.)
So Gru refused this offer the first time, but when he got back to the factory where he made bottled jellies to be sold he realised the factory was producing HORRIBLE tasting jellies and Dr Nefario, his assistant, told him that he wanted to become evil again so he wanted to leave. And they gave him the 21 fart gun send off. But 1 minion farted at the same time so it became the 22 fart gun send off (HURHURHUR).
So now that Dr Nefario was gone, Gru decided to accept the job request. Turns out that traces of the PX-41 serum were found at Paradise Shopping Mall because that serum leaves a very distinct chemical footprint. And it also turns out that Lucy is Gru's partnerr. Yaayy. So they were going undercover as the owners of a cupcake shop in that mall and Gru notices that the owner of a mexican restaurant(Eduardo) looks exactly like an old villain called El Macho. So Lucy and Gru decide to break into his restaurant late at night but all they found was a bottle of his secret recipe salsa. But they did find some traces of the serum in a wig shop. While they investigate, Margo starts to develop a crush on Antonio, Eduardo's son which makes Gru reaaaalllyyy angry and in the end Eduardo invites the entire family to go to his Cinco de Mayo party.
The AVL finds an empty bottle of PX-41 serum in the hair shop and arrests the owner. They also close this case and send Lucy to Australia. Lucy gives Gru her lipstick taser as a memory of her before leaving. And now the family goes to Eduardo's party. Gru follows Eduardo and finds his secret lair underground. And down there he sees the huge magnet, El Macho and Dr Nefario. Turns out he was right about Eduardo being El Macho and Dr Nefario came to work for him. They had been stealing Gru's minions and injecting them with the serum and now they were all purple and weird looking and blegh. Eduardo offers Gru a chance to rule the world but Gru DECLINES IT. AWH YEAH HE AIN'T NO VILLAIN ANYMORE.
Oh, and Antonio broke Margo's heart coz he found some other girl.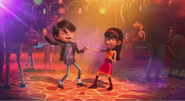 Lucy, on the plane to Australia, realises that she loves Gru so she jumps off the plane and hang-glides to the party. Where El Macho captures her. Dr. Nefario calls Gru to tell him that Lucy has been captured and he goes to save her right away. He disguises 2 of his minions as the mutated minions and he pretends he is a prisoner. But one of the minions accidentally wiped some of the paint off and they chase Gru. But Dr Nefario comes along with a gun loaded with jelly containing the antidote for the serum and he shoots it at all of the minions so now they become normal minions again. Lucy was tied to a rocket that was flying towards a volcano and basically Gru saves her and they get married. YAAAAY :D
Comments: there were a lot of funny stuff coming from the minions and how they acted but I think the general plot isn't very good. But I do like this movie coz it was just SOOO CUTEEE. And the way everything was shown was also really funny XDXD I MEAN LIKE WHAAAT? FART GUNS??
ALRIGHTY THEN. I do recommend you to watch the movie XD it is very cute. Especially if you're a sucker for minions. (WHICH I TOTALLY AM)